STIHL's most powerful professional backpack blower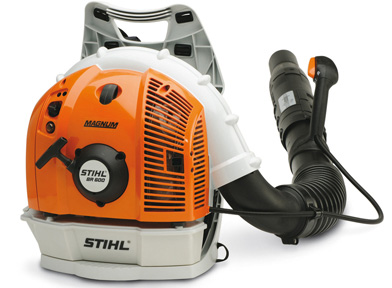 The BR 600 professional backpack blower is one of the cleanest-running in its category, thanks to a fuel-efficient, low-noise STIHL 4-MIX™ engine delivering increased durability and longer life. It offers an impressive power-to-weight ratio with many enhancements including a new nozzle with extended wear area to prolong equipment life, and a specially designed nylon harness for high wear resistance.
Standard features

STIHL 4-MIX® engine
You can always rely on STIHL to keep setting new benchmarks this time with 4-stroke mixed lubrication technology. The STIHL 4-MIX engine, which runs on a fuel-oil mix just like a 2-stroke, offers the benefits without the compromises of 4-stroke power. STIHL 4-MIX engine technology provides fast acceleration, more power, added torque, lower noise, reduced emissions and increased fuel efficiency to complete jobs quickly, quietly and more easily.

Anti-vibration system
Intense vibration at the handles of power tools can lead to long-term effects on blood vessels in the hands and arms. STIHL has therefore developed an effective anti-vibration system whereby the oscillations from the machine's engine are dampened which significantly reduces vibrations at the handles.

Multi-function control handle
Easy, comfortable thumb-operated control means the operator's hand never leaves the handle.
Technical data
Technical data
Value
Sound pressure level (dB(A))
75
Displacement (cc)
64.8
Engine Power (kW / bhp)
2.8 / 3.8
Blowing Force (Newtons)

 

1)
32
Average Air Velocity (m/sec) / (mph)

 

2)
89 / 199
Maximum Air Velocity (m/sec) / (mph)

 

2)
106 / 238
Air Volume at Nozzle (m3/h) / (cfm)

 

2)
1,150 / 677
Displacement (cc.)
64.8
Power Output (kw / bhp.)
2.8 / 4.0
Weight (kg / lbs.)
9.8 / 21.6
1) Newton is the force needed to accelerate 1 kg of mass at the rate of 1 m/sec2.
2) As per ANSI 175.2 standard

The version(s) available in each country may differ from the above range and specifications; specific details may be subject to change without notice. Please ask your local STIHL Approved Dealer for further information.