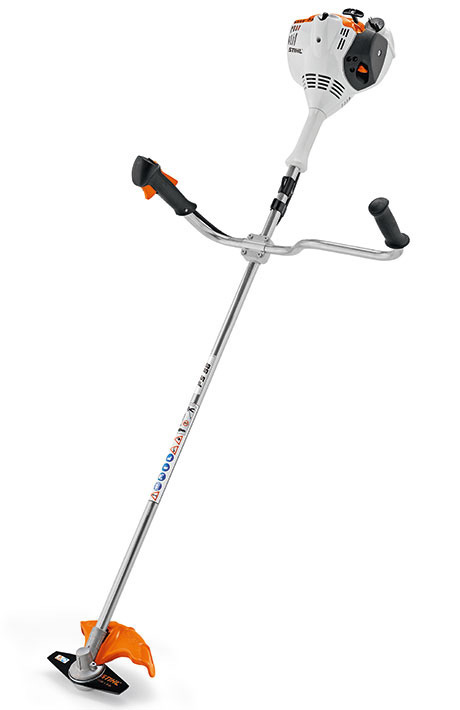 Get a handle on large or difficult trim areas with the new FS 56 C-E brushcutter. This powerful unit features a straight shaft and ergonomically designed bike handles for greater comfort when trimming over large terrain – and for extended periods of time. It also features a low exhaust emission, fuel-efficient engine, so you have fewer refuels and fewer exhaust fumes cramping your style. This brushcutter also includes Easy2Start™ technology, making starting nearly effortless.
*NOTE THIS UNIT COMES WITH TRIMMER HEAD AND BLADE ADAPTOR KIT - BLADE SOLD SEPARATELY
Technical data
Value
Power output (

kW

/

bhp)

0.8

/

1.1

Weight (kg / lbs)
5.2 / 11.5
Displacement (cc)
27.2
Power output (kW)
0
Standard features
2-stroke reduced-emission engine technology

2-stroke engine with stratified charge. A fuel-free layer of air is created between the burned charge in the combustion chamber and the fresh charge in the crankcase, reducing the amount of fuel lost during the charge cycle. This results in more power with a lower weight, up to 20% lower fuel consumption than regular 2-stroke engines and significantly reduced exhaust emissions.

 


Simplified starting system

Simply set the choke, pump the fuel primer, pull the starter cord and away you go! The running machine then switches off after a brief press of the stop button. Once the machine is at a standstill, the ignition activates again automatically. Thus the ignition is always ready for starting.

 


Bike handle

When used in conjunction with a harness, the bike handle enables a smooth mowing action. The bike handle allows the machine to be easily guided, making it ideal for working on large areas and thus reducing fatigue.

 


Please note product images, specs and other information provided may change at any time without notice and may not reflect the units in stock at dealer location. We pride ourselves on working with companies who are constantly researching and developing better products and as such specs may change with little or no notice.